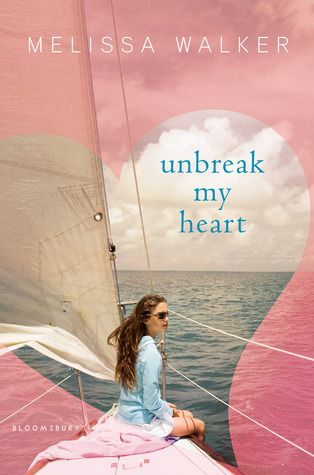 Description: Sophomore year broke Clementine Williams' heart. She fell for her best friend's boyfriend and long story short: he's excused, but Clem is vilified and she heads into summer with zero social life.
Enter her parents' plan to spend the summer on their sailboat. Normally the idea of being stuck on a tiny boat with her parents and little sister would make Clem break out in hives, but floating away sounds pretty good right now.
Then she meets James at one of their first stops along the river. He and his dad are sailing for the summer and he's just the distraction Clem needs. Can he break down Clem's walls and heal her broken heart?
Told in alternating chapters that chronicle the year that broke Clem's heart and the summer that healed it, Unbreak My Heart is a wonderful dual love story that fans of Sarah Dessen, Deb Caletti, and Susane Colasanti will flock to
Epic Wins:
Clementine- This girl will make you laugh. We aren't talking the occasional giggle or haha we are talking laugh-so-hard-you-cry-and-can't-breath. The strange thing about Clem is she is depressed and sad yet she always keeps her sense of humor. I felt I could relate to Clem in so many ways, like how she writes in her journal to figure out what she really thinks.
Olive- Annoying Little Sister Syndrome is classified by these symptoms: Unbearable cuteness, seems to be clingy, looks to you as an example, and boldly declares your secrets in front of the guy you like. Olive has ALSS but she does it with style. She is just so cute!
James- Happy comes to mind. He doesn't let the sad stuff get him down, even when it hurts. He's the perfect happy pill to take when you are sad. He loved to draw, make jokes, and clarify why he buys so many bananas.
Boat Lingo- Let's take the dinghy out. I must use the head before I explode. And other words like jib.
The Humor- Just be ready to laugh, that's all I can say.
The swivel- The author is telling a story about two girls: Clem at the beginning of the year and Clem at the beginning of the summer.
Two guys- As the author swivels back and forth between her times with Ethan the year before and her time with James at the present moment you get two love stories in one. With Ethan there is this Meant-To-Be thing going on but with James is more of a slow realization that she really likes him. The contrast was very well done.
3 Words to describe Unbreak My Heart: Stuck on Boat
Message 1- I love that she comes to love her family more and realizes how lucky she is to have them. Family matters.
Message 2- You can't let your sadness define who you are. Clem figures this out through James and her summer stuck on a boat.
Message 3- Just because you go through something that sucks doesn't mean that your attitude has to suck. Happiness, for the most part, is a choice.
Epic Fails:
I hate to do this because I LOVED this book so much but I can't not mention it. I don't think the title or the cover do this book justice. I picked this book for it's description alone. I open the first page hesitant because I thought the character would be annoying or maybe stuck up. What I found was Clem an amazing, funny girl who made me giggle. The cover conveys too much depression to me. Yes Clem is sad but the book overall is funny and hopeful, I don't get that from this cover. Don't even get me started on the title. To sum up my rambling I think they could have done a better job picking out a cover that shows you Clem and her world.
Ethan- Coward.
Overall: When I started this book I wasn't sure about it, now I am. I loved this book on the same scale that I love Dinosaurs, Mustaches, and Swedish Fish. That is saying something.
just sayin,
-Kare