This weeks feature is:
Savannah @ Books with Bite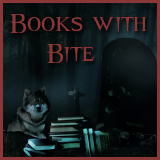 Question: What books have Bitten you?
Everybody and there dog needs to read
I am the Messenger
by Markus Zusak!! I loved the message it gave about how anybody, even a high school drop out who drives a taxis for a living, can be a hero, be the underdog.
Question: How do you spread the word about your blog?
Isn't it obvious! This meme-ish fun that I do each week! :)
(Book Blogger Hop, Follow Friday, and IMM)
I mean I try to spread the word via twitter and word of mouth but does anybody really listen? I get the most out of memeish things that I can put a link on there site (they are always like THE place to link to).
just sayin,